The waterfront and the canals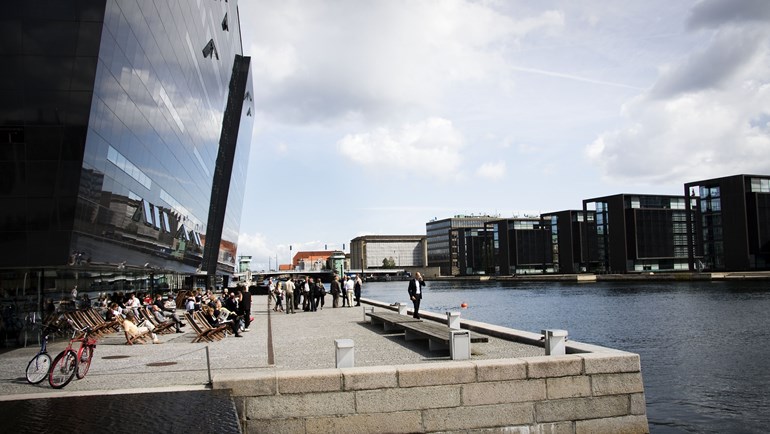 #myCPH #myCopenhagenWendy #TheSquareHotel #VisitCopenhagen
by Wendy
I love the areas and the scenery around the canals and the harbour in Copenhagen, and I am regularly to be found enjoying the waterfront on foot or on board one of canal boats.
The Black Diamond
From Langebro bridge, which connects Amager with Copenhagen, I would recommend following Christians Brygge along the waterfront to the unique Royal Library, housed in the beautiful building known as 'The Black Diamond', which leans out glistening beautifully over the water.
Canal tour – the city from the water
From here, I walk through the narrow streets to Gammel Strand, stroll about a bit, relax and perhaps enjoy a cup of coffee before jumping onto one of the sightseeing boats on the canal. Sure, I've seen it all before, but it's a fantastic experience every time and it never gets boring. I can sit back and relax on the boat while being presented with the virtues of Copenhagen: its buildings, history, modernism, bicycles, funny stories, beauty, art and the wonderful relaxed atmosphere that makes the city so great.
A taste of Nørrebro
Want to experience a cultural change from the inner city to a local area in Copenhagen? Then you should head for Nørrebro and, for example, eat at one of the many kebab houses. There are a host of other eateries if kebabs are not your thing, so you will certainly be able to find something else to your liking,
The Little Mermaid and the Queen's residence
When I jump off the boat at the Little Mermaid, I walk back towards the centre. This takes me past Amalienborg Palace with its lovely garden, with a view of the Opera House on the other side of the canal.
A cold beer at Nyhavn
My last stop is Nyhavn. In the summer, I'll have a beer, and in the winter, a cup of hot chocolate while I soak in the constant buzz around the harbour.
This is my Copenhagen <3